---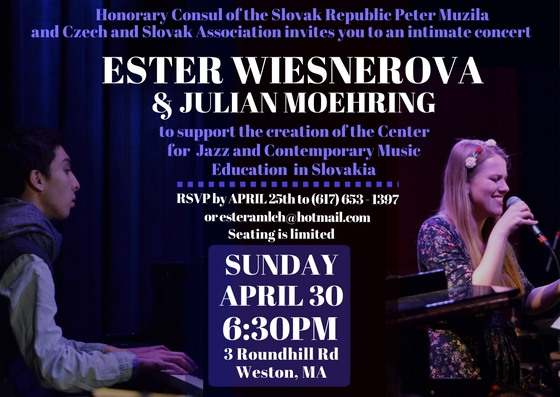 April 30, 2017: Ester Wiesnerova in an intimate concert
RSVP by April 25, 2017 to
Estera Mlch at 617 653 1397 or esteramlch@hotmail.com
SEATING IS LIMITED
Partnering with Berklee College of Music Ester Wiesnerova aims to establish the first Center for Contemporary and Jazz Music Education in Slovakia. Her plans for Slovakia were recognized also by Forbes Slovakia magazine, she was one of the "30 under 30".
About Ester
Besides being a recent graduate from Berklee in Jazz Composition and Vocal Performance, Ester is also an award winning performer of Boston and NYC scene. Her recent tours included South Africa, Germany and Switzerland, Cyprus and Slovakia. She presented her original music blending jazz with Slovak tradition and elements of folky singer-songwriter style.
Ester's other passion is education. She is a high school students' mentor in Slovakia a tutor at Berklee and she has lead numerous workshops all around the globe. Ester has also been recognized for combining music and education in her volunteer activities, such as organizing concerts and workshops in homeless shelters, rest homes, hospitals etc.